February, 2011
February 28, 2011@ 9:08 PM ♣ Comments (3)
It's Monday! What Are You Reading? is a weekly meme that is hosted by Shelia at Book Journey. This meme includes what books we have read the past week, and books that we plan to read this week.
I've read a lot of manga this week, but it's still not as much as I usually do. At least I got a few non-manga books down. I'm actually pretty proud of that! Last week was a good week for reading.
Books Read
Troublemaker (Book 1) by Alex Evanovich
Hot Gimmick (Volume 1) by Miki Aihara
Dengeki Daisy (Volume 1) by Motomi Kyousuke
Broken Angels (Volume 1) by Setsuri Tsuzuki
Homunculus (Volume 2) by Hideo Yamamoto
Macbeth by William Shakespeare
The Third Child by Marge Piercy
The Hunger Games by Suzanne Collins
Books Reading
The Pact by Jodi Picoult
Books To Read
The Legends of Lake on the Mountain by Roderick Benns
Jatta by Jenny Hale
Title: The Legends of Lake on the Mountain (An Early Adventures of John A. Macdonald)
Author: Roderick Benns
Publisher: Fire Side Publishing House (2011)
When a grizzled old man shoves a decades old treasure map into thirteen-year-old John A. Macdonald's hands, he's certain this will be the best summer ever. But that was before a hump-backed lake serpent is seen at twilight by the people of Stone Mills in the mysterious Lake on the Mountain. As people flee in panic, John knows his family might be next unless he can figure out what dwells in the lake in time. But does he have what it takes to confront something he can't see clearly? Or will the serpent in the darkness win?
Today I finally got the books I won from Firstreads in the mail! It only took ten days to ship it, so I'm extremely delighted about the fast delivery. The book was in great shape as well, not to mention that there was minimal packaging (I'm a stickler for less packaging). I feel grateful to even hold the book in my hands right now, so I can't wait to begin reading it. Be expected to see a review in a week or two, tops!
Book Blogger Hop is hosted by Crazy For Books. This is the first time I'm joining in with the massive book blogging party. I've seen it around before so I'm excited to finally participate!
Question: Do you ever wish you would have named your blog something different?
I'm fairly new to the blogging realm. Nine days old to be exact! With that in mind, I have no regrets about my site name whatsoever (so far anyway). "Room 304″ is a name that I was interested in when I first heard it. Even though the name originally comes from a series of poems by my favourite musician, Kyo, I see it as my little fantasy room filled with stacks and stacks of books. Once I get my own house, I'll dedicate a room to books and call it Room 304.
February 27, 2011@ 11:13 PM ♣ Comments (0)
WARNING: Spoiler alert!
Title: The Hunger Games
Author: Suzanne Collins
Publisher: Scholastic (2008)
Date Read: February 24, 2011 – February 25, 2011
Score: ♣ ♣ ♣
Twenty-four are forced to enter. Only the winner survives.
In the ruins of a place once known as North America lies the nation of Panem, a shining Capitol surrounded by twelve outlying districts. Each year, the districts are forced by the Capitol to send one boy and one girl between the ages of twelve and eighteen to participate in the Hunger Games, a brutal and terrifying fight to the death – televised for all of Panem to see.
Survival is second nature for sixteen-year-old Katniss Everdeen, who struggles to feed her mother and younger sister by secretly hunting and gathering beyond the fences of District 12. When Katniss steps in to take the place of her sister in the Hunger Games, she knows it may be her death sentence. If she is to survive, she must weigh survival against humanity and life against love.
I thought that it would be about time that I finally picked up this series. There's been a lot of hype around it, and I always felt like I was missing out on something. So, I finally went to the library and read it.
This book didn't go beyond my expectations, but I liked it more than I thought I would. When I first heard about the book, I never expected it to be a love story. I was surprised when I read the back cover and quickly dismissed it. It turned out to be a rather cute love story at that. Most of all, I was impressed with how much action was in the book. I expected more, but it was enough that the romance aspect of the book didn't stand out like a sore thumb.
Katniss is definitely a nice spunky character but I'll have to say that out of all characters, Peeta and Rue definitely won me over. His unrequited love story was adorable. Her simple adorable nature was too much to overlook. They really made the book for me.
I had only had one problem with the book, and it's mostly what cost the book points. Fate really favoured Peeta and Katniss, but fate was extremely predictable. Everything I predicted as the book went on, came true. I sniffed out the ending from a mile away. It took out a lot of the suspense and anticipation. Still a great book overall.
February 25, 2011@ 3:56 PM ♣ Comments (0)
Title: The Third Child
Author: Marge Piercy
Publisher: Harper Collins (2003)
Date Read: February 18, 2011 – February 24, 2011
Score: ♣ ♣
In the prominent political family of the Dickinsons, ambition comes first, and Melissa, the third child, has always felt she came last. Going away to college at Wesleyan offers a chance at love and a life free from her brilliant mother's constant scrutiny.
Blake, a child of mixed race and apparently unknown parentage, has been reared by lawyers whose defense of death row cases has brought them toe-to-toe with Melissa's father, the former governor of Pennsylvania, who is now a U.S. senator.
When Melissa meets Blake at college, their passion is immediate. Yet Blake is keeping a dangerous secret from Melissa, one that could destroy them–and their families. Dealing with themes of love, honesty, identity, and the consequences of ambition, this thoughtful, beautifully written story is a remarkable and provocative page-turner.
Melissa Dickinson is a girl with low self-esteem, which probably developed being neglected for years from her politically ambitious parents, Rosemary and Richard. When she finally enters college, she finds freedom, and a love affair that will turn her world upside down. Of all the people she falls in love with, Melissa falls for Blake Ackerman. But, nothing is at it seems. Blake's adoptive parents are lawyers who have clashed many times with her father. At first, Melissa thinks nothing of the coincidence, but in the end, it was a foolish and grave thing to overlook.
This whole book was like a car crash. Messy, bloody, and horrible, yet I could not tear my eyes away from it. Everything was extremely predictable, and obvious. It follows the theme of Romeo and Juliet. That being said, we know right off the bat what's going to happen in the end. Even if I wasn't told that it was based off Romeo and Juliet, I would have guessed the ending anyway. I knew from the very beginning.
Melissa is so naive that it hurts. She has such a simple mind, that's ultimately boring and annoying. She becomes completely dependent on Blake. Her motivation and drive is lost when he is not there. I found it extremely pathetic. There was one line the book that made me want to throw it across the room. "Blake makes me feel pretty." Obviously, she has some issues that she needs to iron out.
Her male counterpart, Blake, was extremely easy to figure out. Throughout the whole book, Melissa constantly whined about how she did not understand him. His intentions were pretty clear from the first lines that left his mouth. If there's any other character that annoys me more than Melissa, it's Blake. It only makes sense since they do have one thing in common, and it's that their too deep into their obsessions.
As the book goes on, they dig even deeper. Their motives became even clearer. Each of my predictions slowly began to come true every page I turned. The ending was climatic enough, but it left me disappointed. I'm glad to say that I don't have to read this book ever again.
February 24, 2011@ 9:11 PM ♣ Comments (0)
WARNING: Spoiler alert!
Title: Homunculus (Volume 1)
Author: Hideo Yamamoto
Publisher: Shogakukan
Date Read: February 21, 2011
Score: ♣ ♣ ♣ ♣ ♣
In this volume of Homunculus, 34 year old Susumu Nakoshi continues the strange experiment with the bizarre medical student, Manabu Ito. Nakoshi begins to see strange creatures in his left eye and is terrified by what he sees. Ito tries his best to continue his research, but Nakoshi is more curious than ever about this new found power. Nakoshi encounters the yakuza boss once again, and confronts the monster that he sees. But now, Nakoshi and Ito have established that the so called monsters that he sees are homunculi. The simplest form of human beings. Nakoshi seems to influence the homunculi, and through an intensive interrogation, he erases it from the man.
Homunculus is still the ever so powerful and surreal series. The drawings are rather unsettling but are so organic that I can't help be drawn towards it. Every single scene of the book is captivating and somewhat emotionally disturbing. So far, the homunculus that Nakoshi is seeing reflects burdens in our hearts, or our minds. He expels his first homunculus in this volume. It was extremely emotional, that tears sprang into my eyes. The concept of these burdens in our hearts appeals to me, and only makes me wonder what I would look like in the eyes of Nakoshi.
February 21, 2011@ 10:58 AM ♣ Comments (0)
Off the Shelf!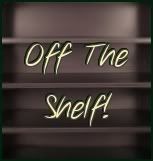 The goal of this challenge is to encourage readers to actually read what they buy. I have quite a few books I've bought from the past two years, but haven't started to read! I also have countless e-books sitting on my computer that have not been touched. It's bad, I know. So in 2011, I'm determined to read them all!
Challenge Level: Making A Dint – Choose 30 books to read
Godchild (Volume 5) by Kaori Yuki
Godchild (Volume 6) by Kaori Yuki
Wuthering Heights by Emily Bronte
Jane Eyre by Charlotte Bronte
The Moonstone by Wilkie Collins
Life Mask by Emma Donoghue
McNally's Gamble by Lawrence Sanders
The Pact by Jodi Picoult
Chicken Soup for the Soul: Christian Teen Talk
Born O'Hurley by Nora Roberts
Fierce People by Dirk Wittenborn
Cease to Blush by Billie Livingston
Johnny Kellock Died Today by Hadley Dyer
Firefly Summer by Maeve Binchy
Cryptonomicon by Neal Stephenson
Maid Marion by Elsa Watson
The Red Passport by Katherine Shonk
War and Peace by Leo Tolstoy
1984 by George Orwell
The Taming of the Shrew by William Shakespeare
Othello by William Shakespeare
The Quiet Little Women by Louisa May Alcott
Anne of Green Gables by L.M. Montgomery
How To Disappear Completely by David Bowick
The Age of Innocence by Edith Wharton
Pride and Prejudice by Jane Austen
A Dangerous Man by Charlie Huston
The Hunchback of Notre Dame by Victor Hugo
The Three Musketeers by Alexandre Dumas
Les Miseribles by Victor Hugo
1st in a Series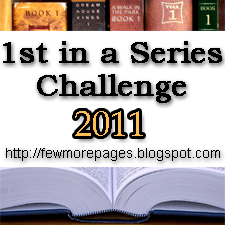 Read the first book in a series. Sign up over here. This seems like an easy enough challenge. This may be seen as taking the easy way, but I have over 20+ manga series I want to start reading. I hope I'll finish this!
Series Fanatic: Read 20 books that are the first in any series.
Hunger Games by Suzanne Collins

Hot Gimmick (Volume 1) by Miki Aihara

Honey Hunt (Volume 1) by Miki Aihara

Broken Angels (Volume 1) by Setsuri Tsuzuki

Goong (Volume 1) by So Park Hee
The Name of a Flower (Volume 1) by Iqura Sugimoto
Bride of the Water God (Volume 1) by Mi-Kyung Yun
Variente (Volume 1) bg Iqura Sugimoto
Pluto (Volume 1) by Naoki Urasawa
Sasameke (Volume 1) by Ryuji Gostubo
Nodame Cantible (Volume 1) by Tomoko Ninomiya

Dengeki Daisy (Volume 1) by Motomi Kyousuke

Istiwaribito (Volume 1) by Yuuki Iinuma
Dolls (Volume 1) by Saki Ohto

Kyo Kara MAOH! (Volume 1) by Temari Matsumoto

Threads of Time (Volume1) by Mi Young Noh
Voices of Love (Volume 1) by Kanae Hazuki
Suppli (Volume 1) by Mari Okazi
Ceres: Clestial Legend (Volume 1) by Yuu Watase
Goodreads 2011 Challenge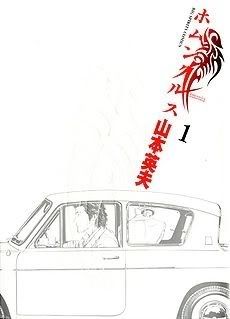 Title: Homunculus (Volume 1)
Author: Hideo Yamamoto
Publisher: Shogakukan
Date Read: February 20, 2011
Score: ♣ ♣ ♣ ♣ ♣
Homunculus revolves around a homeless man. He lives in his car, between the park filled with others who share his fate, and the bustling city that he once was a part of. He comes across the idea of trepanation, and what he's about to find is possibly the most disturbing thing unknown to man.
Trepanation is a hole in the skull produced surgically. Trepanation is the oldest surgical practice and is still practiced in some African tribes. It's also practiced in Homunculus, a seinen manga that will keep your eyes glued to the series and to the phantasmic.
I mostly read this on a whim. Spectrum Nexus was promoting it on their banner, and I decided to check it out. The summary intrigued me, and the concept was unheard of.
Right away, the first thing I noticed was the art. It was extremely unnerving to look at but had a very down to earth and unique. I'm a sucker for different ways of drawing other than the usual shojo and shonen stereotypes so it was a nice refresher.
The whole concept of homunculi is something that I never thought about. The state of being the simplest human being. There's reoccurring themes of the fetus, and the typical homunculus. The author did a wonderful job with incorporating everything into the story. The imagery and symbols worked amazingly well with each other.
As for the characters, not too much is know about them yet. They all have an uncanny air to them. There's many secrets that are yet to be revealed about them as the series will go on.
So far, the only thing I can complain about is the fact that all 254 pages of this volume went by too quickly for me to notice!
February 19, 2011@ 1:53 AM ♣ Comments (0)
Be expected to read reviews of these books soon.
Nana (Volumes 1-21) by Ai Yazawa
Dear Friends by Ayu
The Diamond of Drury Lane by Julia Golding
Solanin by Inio Asano
Slow Hands by Leslie Kelly
Stroke of Midnight by Julie Kistler
Fragile Eternity by Melissa Marr
Alichino (Volume 2-3) by Kouyu Shurei
The Picture of Dorian Gray by Oscar Wilde
Salem Falls by Jodi Picoult
Comic (Volume 1) by SiHyun Ha
Otomen (Volume 1) by Aya Kanno
Card Captor Sakura: Master of the Clow (Volumes 1-2) by CLAMP
Cirque Du Freak (Volumes 1-6) by Darren Shan
Fairy Cube (Volume 2-3) by Kaori Yuki
Genshiken (Volume 1) by Kio Shimoku
IS (Volumes 1-8) by Rokuhana Chiyo
Gaba Kawa by Rie Takada
House Rules by Jodi Picoult
Can't Help Gettin' Hurt by Mika Sadahiro
Doubt by Nishimura Shuuko
Mirai no Kiouku by Kunieda Saika
Kaze no Yukue by Kunieda Saika
Sensitive Phonograph by Sakura Ashika
Tonari no Kimi no Nukumari wo by Ootsuki Miu
Sweet Bitter Candy by Asou Mitsukai
Doisaibou Seibutsu by Yumeka Sumomo
Boyfriend (Volumes 1-3) by Yamada Daisy
Hand Which by Tsuta Suzuki
Bus Hashiru by Yumeka Sumomo
Sakyuu Rasenron & Baku by Yumeka Sumomo
Nemunoki no Geshukusou by Yumeka Sumomo
Charisma Doll by Erika Kurahashi
Mushishi (Volumes 1-7) by Yuki Urushibara
Kazekaze no Hito by Yumeka Sumomo
Soul to Seoul (Volumes 1-5) by Kim Jea Eun
Blank Slate (Volume 2) by Aya Kanno
Bambi and Her Pink Gun (Volume 1) by Atsushi Kaneko
Musashi #9 (Volumes 1-3) by Miyuki Takahashi
Ikigami (Volume 1) by Motoro Mase
Koi Kaze (Volumes 1-5) by Motoi Yoshida
The Sword of Shibito (Volume 1) by Hideyuki Kikuchi
Madara (Volume 1) by Eiji Ostuka
Ooku: The Inner Chambers (Volumes 1-2) by Fumi Yoshinaga
Darkside Blues by Hideyuki Kikuchi
Bi no Isu by Reibun Ike
Dark Hunters (Volumes 1-3) by Sherrilyn Kenyon
Yume ni Tobu Tori by Naono Bohra
Denkou Sekka Boys (Volume 1) by Tohjoh Asami
Fukujuu no Gakuen by Kabutoumaru Chouka
You Are Mine by Kaori
February 18, 2011@ 6:49 AM ♣ Comments (0)
I've always been a big reader. Ever since I could… well, read words, I've been reading. Recently, for the past 8 or so months, I've been reading more again. The only thing that's different is that I've been keeping track of what I'm reading. I discovered Goodreads, an amazing site that lists all the books I've read. From the moment I signed up, I've been using it religiously. I wanted to take it a step further and make a reading journal. And thus, "Room 304″ was born.
As a side project, I'm also trying to make a copy of the book list on paper. How you might ask? I'll reveal that in another post, for another time.
So what will this log actually contain? Mostly my reviews of books and/or posts on the progress of books I'm reading. Actually, my reviews won't really be "reviews". They're mostly comments for myself about what I liked, and didn't like about the books I read. If they were full-fledge reviews, I don't think it would be very comprehensible. It's more for my own benefit more than anything.
Back on topic! Here you are, shiny new book blog. I hope to put you to good use.